ARCHITECTURE'S ATMOSPHERES AS MEDIATION
In this course we will scrutinize the ordinariness of architecture's atmospheres. Architecture is typically thought in terms of stable, hard, and formal boundaries and masses. This course will instead consider seriously how architecture variously occupies, contains, and produces
atmospheres
. We will come in deliberate contact with atmospheric matter such as dust, aerosols, smog, miasma, smoke, haze, debris, and pollen via architecture and its inhabitants to construct a sense of
architecture's atmospheres
. With this as a frame we will enter historic and contemporary discussions surrounding air pollution, urban sensing technology, indoor and outdoor air quality, climate models, and mood, as matters of architectural concern. These concerns will be framed in terms of mediations— processes of materially altering interaction and communication between various entities. Yoked together,
architecture's atmospheres of mediation
will help us develop a vocabulary and set of methods to engage in atmospheric debates in ways that typically evade architectural representation or measure. This will lead us to pay closer attention to everyday social and cultural practices mediated by architecture, and their ideological bases. This course will gather scholarship from Architectural History and Theory, Science and Technology Studies (STS), and Communication & Media Studies.
ARCH 121 : INTRO TO MODERN ARCHITECTURE
Course taught in the architecture program at the
University of San Diego
in Fall'19.
Course Description:
To be modern is to confront the demands of the dynamism of reason, progress, growth, and movement. This course will examine the architecture that some of these forces shaped. In lieu of an exhaustive survey, this course will examine modern architecture's impetus, foils, and products through key figures and projects during the period between the mid 19th century until right after the second world war. This history is always incomplete and conditional. There is no one modern; there is no one modernism. We will develop a plural sense of modern architecture by returning to very particular historical, social, technological, political, and material contexts.
As a meta exercise, this course will also address what it means to have a modernist pedagogical canon and why this exercise matters. We will discuss the stakes of approaching such a canon with both a receptive and critical posture.
For syllabus, please email.
DUST:
Communicating Indeterminacy
Making and Doing Exhibit : 4S Conference
| New Orleans, 4-7 Sep. 2019
Recieved the
Making and Doing
Award
.


Abstract: How and why do we model and control dust? In its various entanglements, dust, as both a scientific and non-scientific diffuse object is material and discursive but evades measure. It is variously governed through metaphor, myth, story and model. Through this exhibit, I present two things: 1. A suite of scientific and non-scientific epistemic objects and the practices that they convene through which we have made sense of dust 2. A method of setting up research questions through the medium of a (scholarly) picture book. The picture book follows a little boy and his companion vacuum cleaner who ask questions of dust. This narrative of imagined engagements rooted in specific experiences brings together voices from interdisciplinary networks of actors to whom dust has come to matter. Working together, these two strands lay out the stakes of unequal knowledge regimes when grappling with indeterminacy via dust.



.
.
Photos from the installation at the Making and Doing session at 4S 2019.
Symposium
| April 11 & 12, 2019
I co-organized a 2 day graduate Science Studies mini-symposium sponsored by the Science Studies Program at UCSD. Dr.Lorraine Daston was invited to lead graduate workshops and deliver a university-wide lecture titled BIG CALCULATION AND THE HISTORY OF INTELLIGENCE. Graduate students from various UCs presented their work at the graduate workshops.

Participants:
Iris Clever, Cecelia Opatken-Ringdal, Ranjodh Singh Dhariwal, Anne O'Connor, Joshua McGuffie, Matthew Soleiman, Hailey Kwon, Sky Michael Johnston, Patrícia Martins Marcos, Akshita Sivakumar.

My presentation, titled Being Particular About Particles: Diffuse Objects in Computer Graphics and Physical Science set up dust as a scientific and technical diffuse object which begins to problematize how the field of computer graphics and the physical sciences are calibrated on the solid.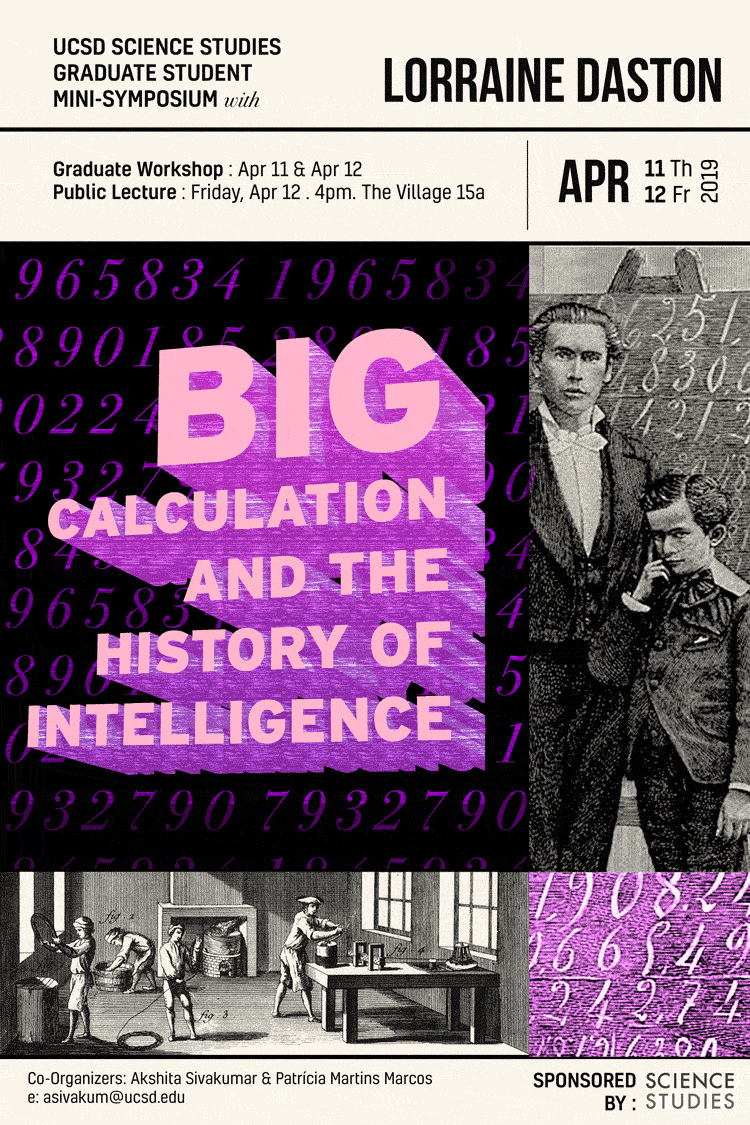 Poster design: Akshita Sivakumar
SYLLABUS AS POLYLOGUE
Scaffolding learning through convening objects
Spring. 2018
This experimental project is based out "performance anxiety" in discussion groups. It asks how might we scaffold discussion of texts in ways which rehearse actions of sameness and difference of opinion. The project was conceived and iterated in parallel with Lilly Irani's course titled Design and Politics taught in Spring, 2018. The content of the fold-outs draws largely from the readings on the course syllabus, which can be found
here
.
Concevied of and iterated over as convening objects, these fold-outs bring together major themes, discussion topics, and questions which can then be modified in small groups. Each of these foldouts is based on the theme for the respective week, and invites participation while scaffolding learning.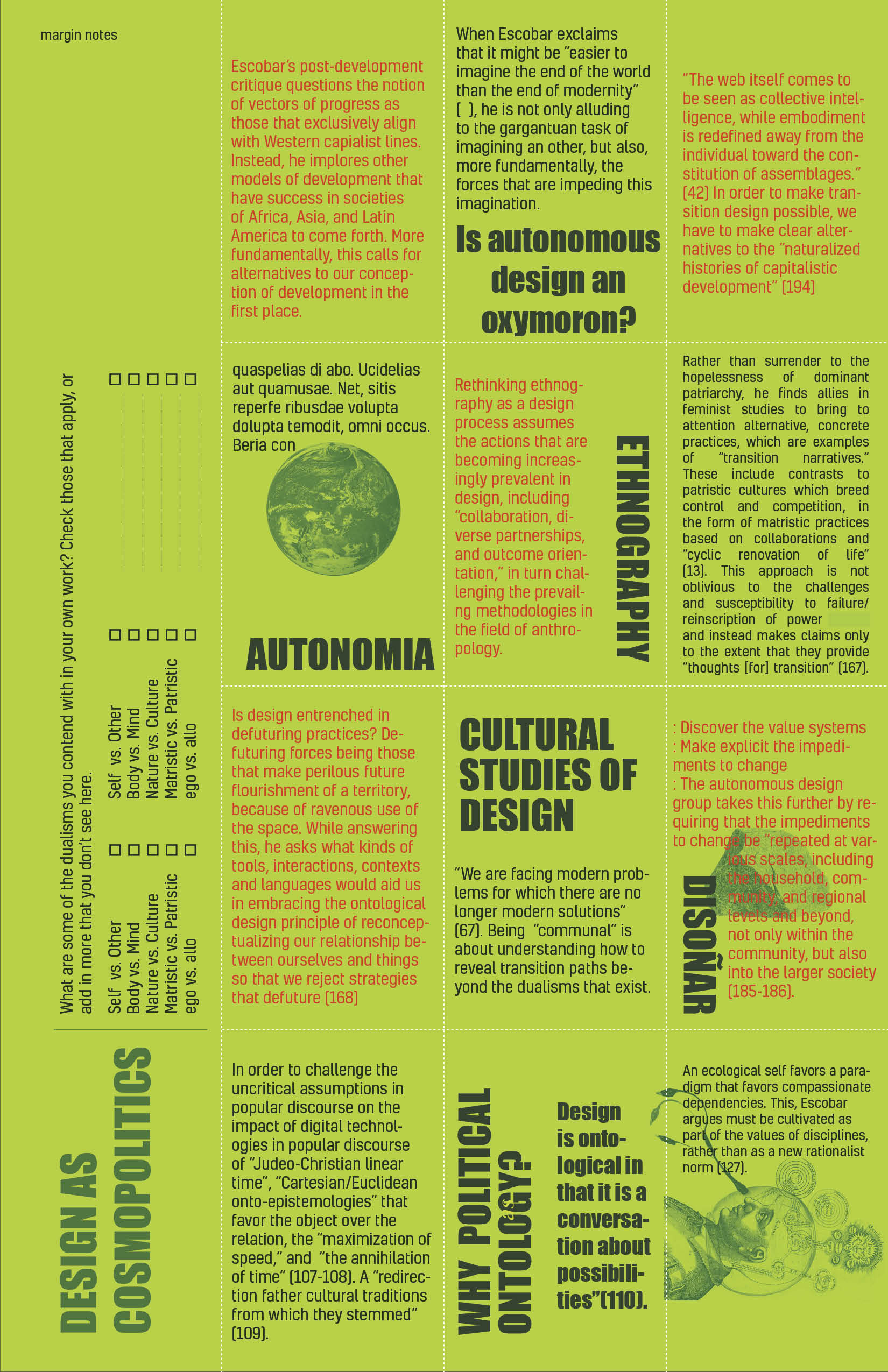 01


.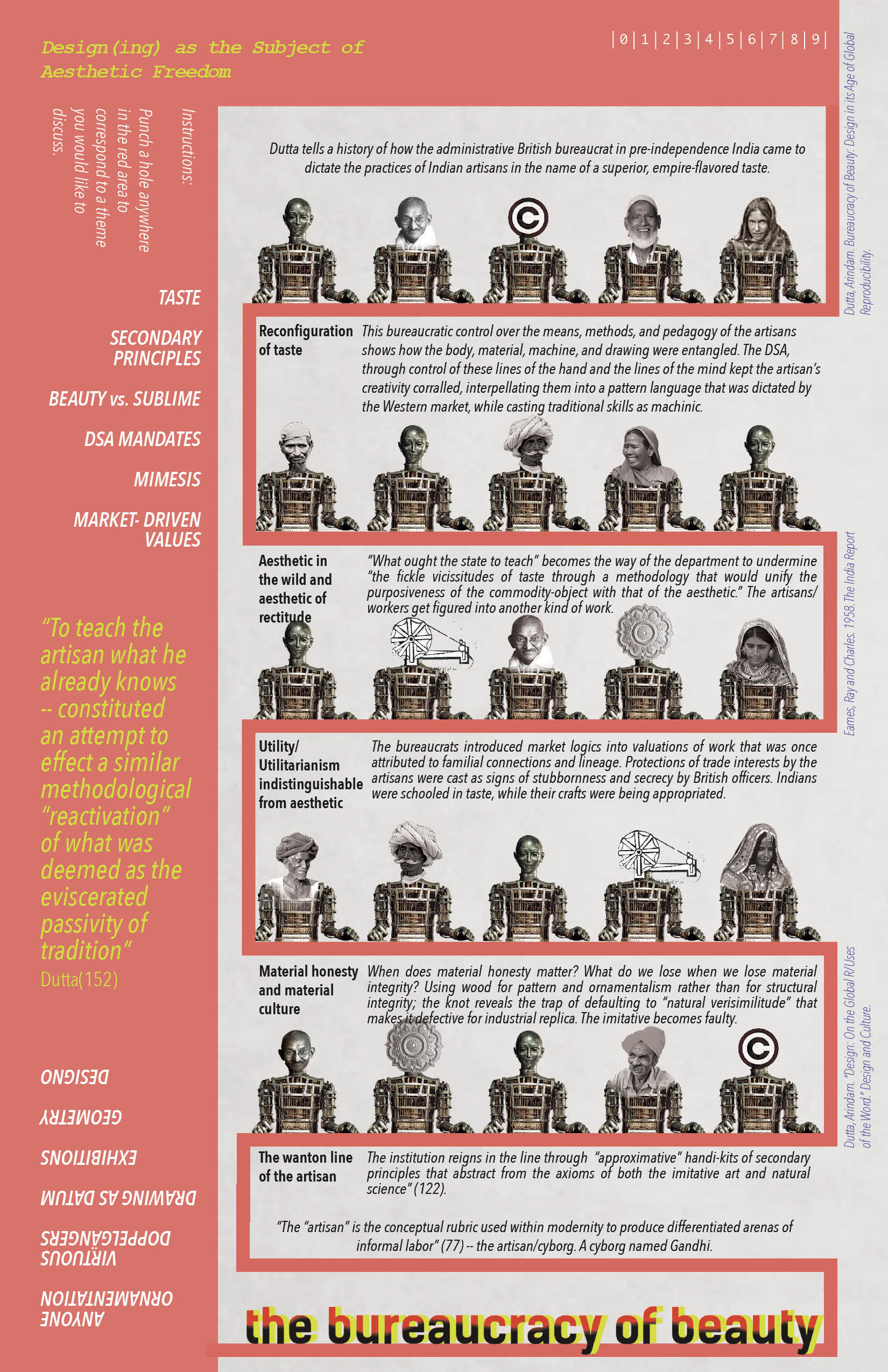 02


.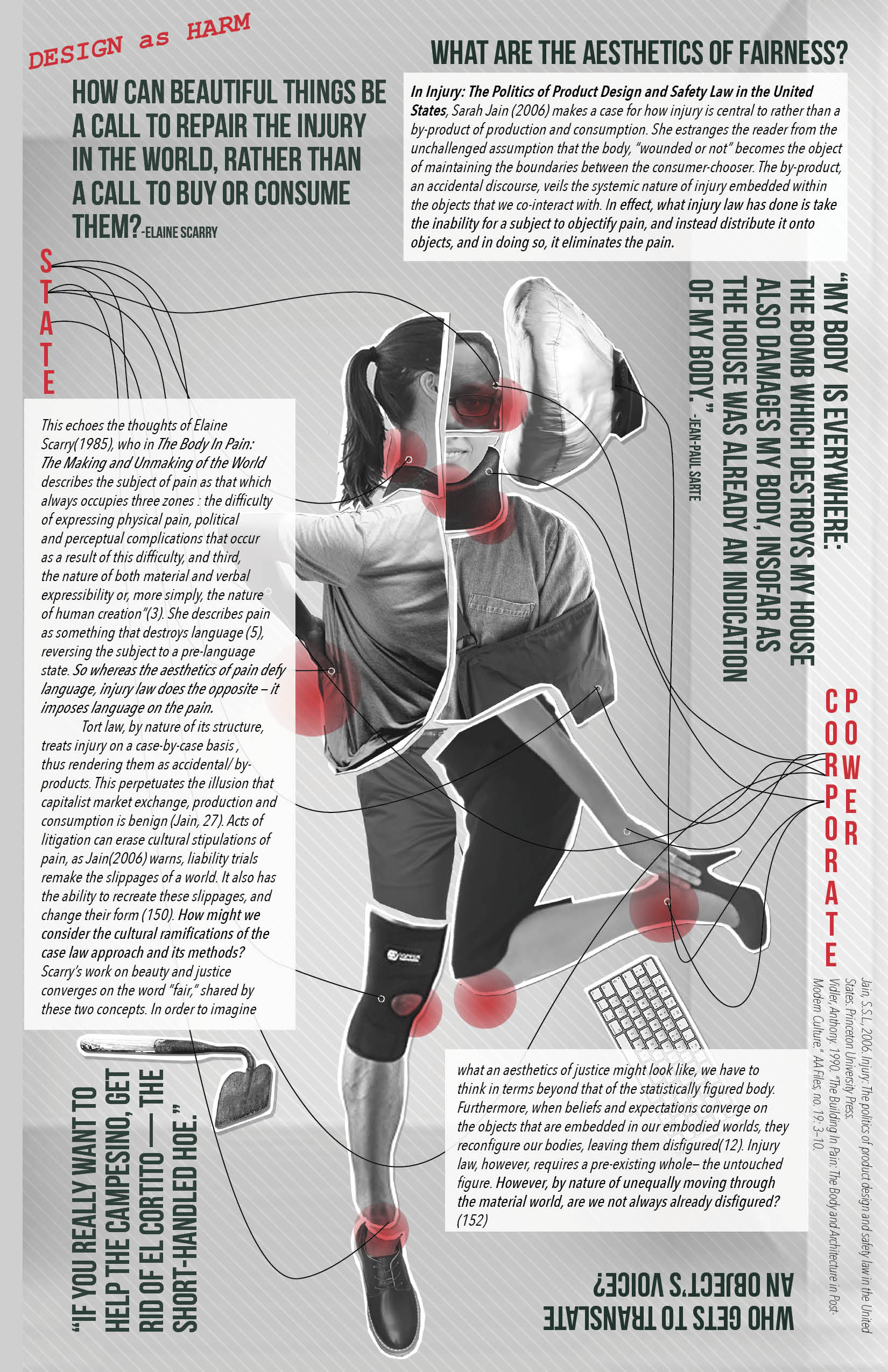 03


.

04


.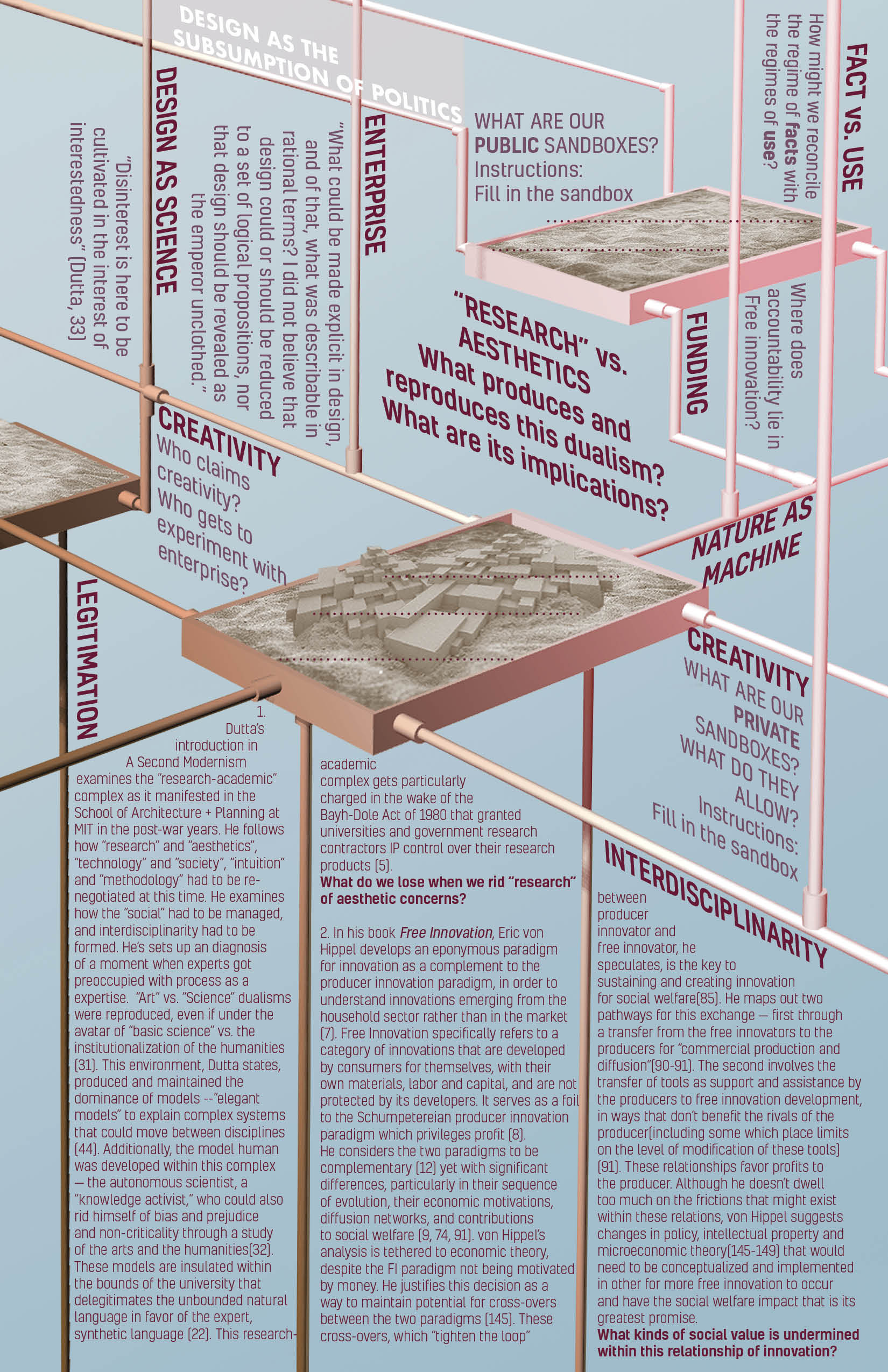 05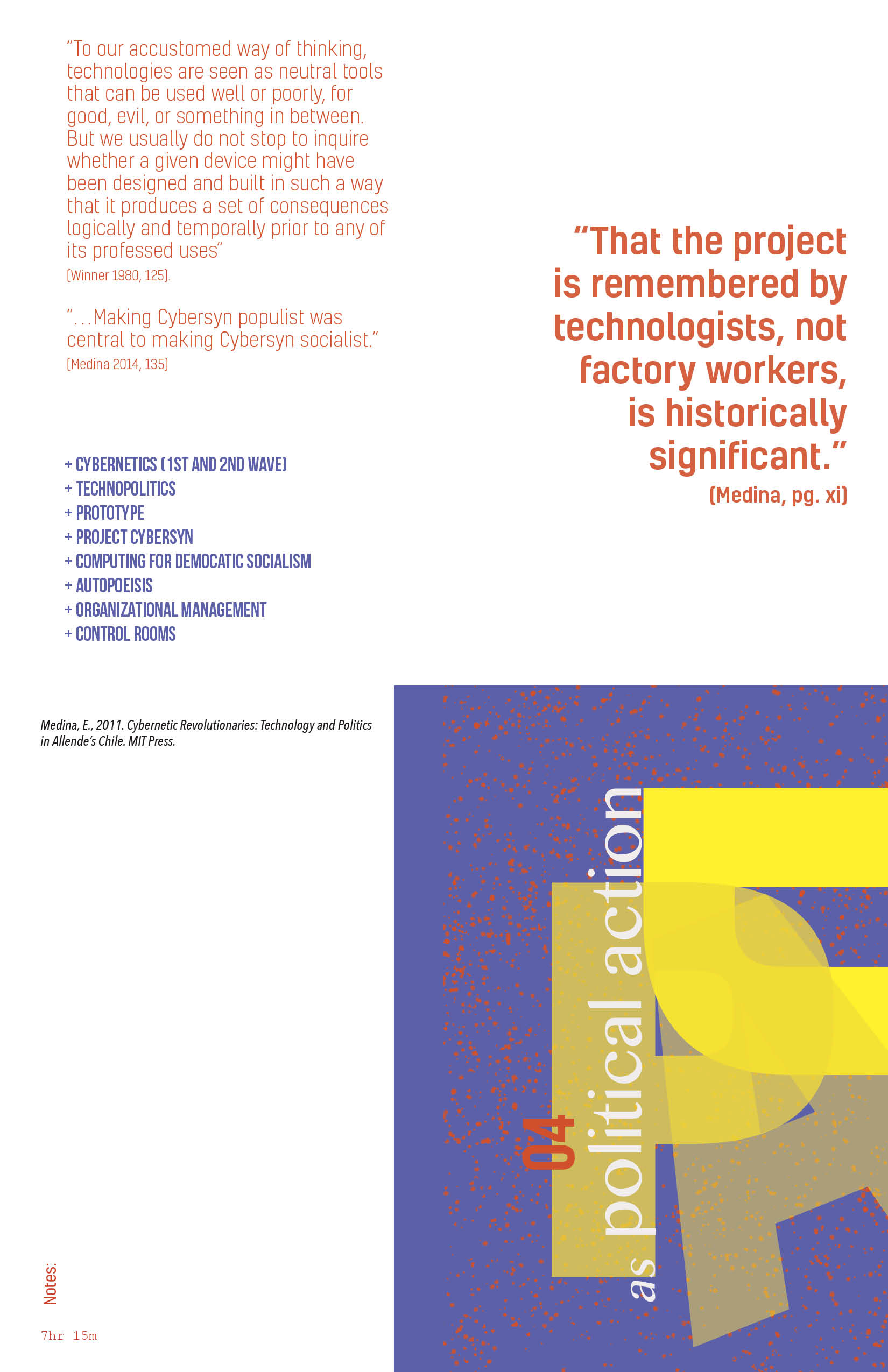 .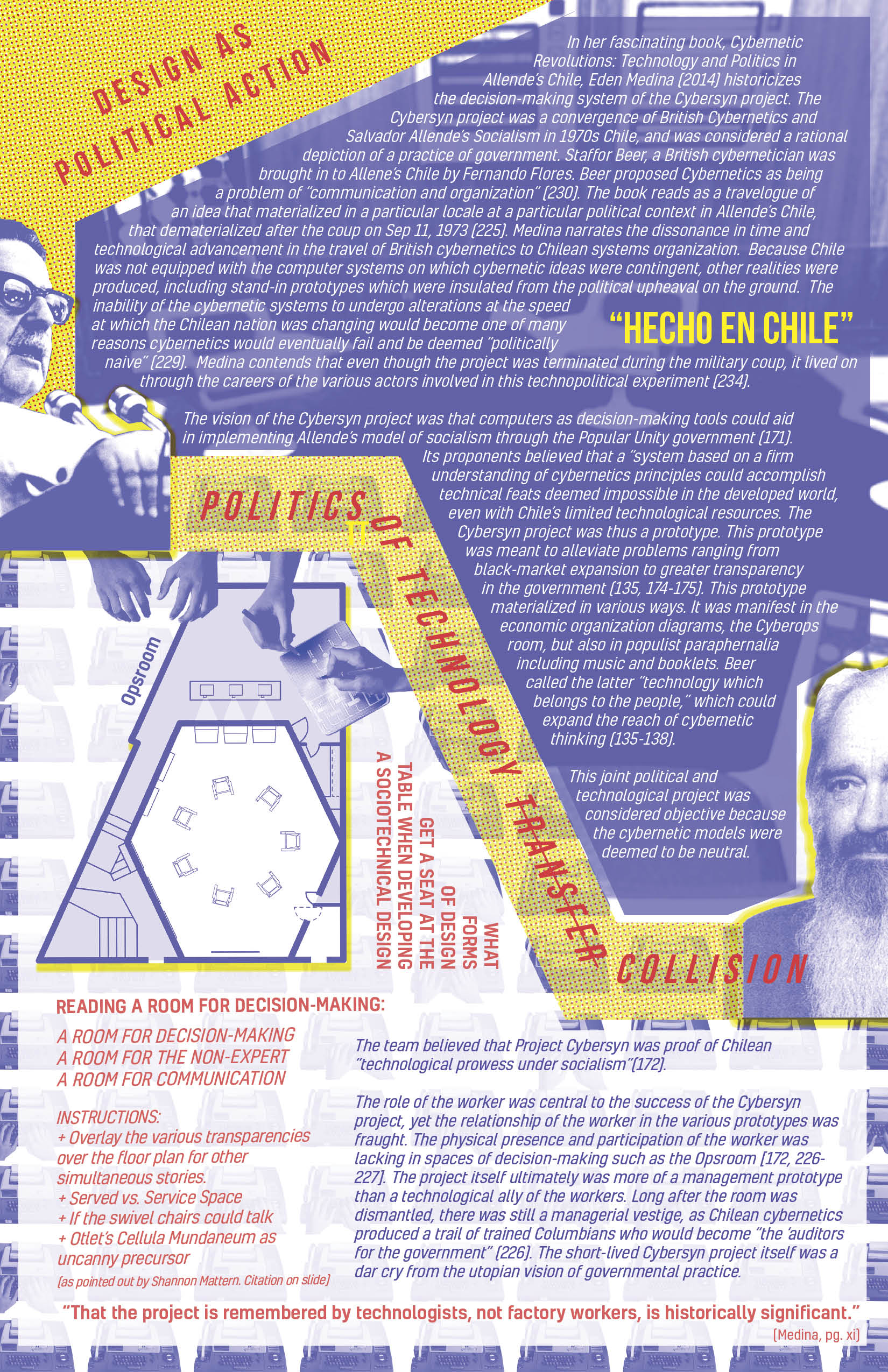 06
100+ Laskey competition winning entry
with Stephen Kim
2011