Unaccounted Work of Computational Simulation: A Case of Diffuse Objects



EASST4S/ Conference Talk. Aug 18, 2020
Panel: Re-animating the Sociocultural Life of Computer Graphics
Panel co-chaired w/ Ranjodh Singh Dhaliwal



Paper Abstract:
How are computational simulations put to work? How might we study and account for what lies in excess of simulations? Why should this excess be accounted for? This presentation responds to these questions through ethnomethodological work in the community of Blender3D, the largest and fastest growing free and open source (F/OSS) 3D graphics pipeline. Rather than considering simulations as entirely technical, I take as a starting point that various computational artifacts are social and cultural achievements (Sismondo, 1999; Hulme, 2013; Hastrup & Skrydstrup, 2013; Dourish, 2016; Finn, 2016; Seaver, 2017). Tending to these social processes aims to decenter the myth of simulations as standalone technical objects and their inherited computational commonsenses. I choose particle-based simulations as a heuristic to track simulations' excess. Particle-based simulations of diffuse objects are implemented in areas as wide ranging as air pollution and animation. Taking a material-semiotic approach (Law, 2004) for my analysis I conclude that the particle-based simulations function in ways that belie two common tropes in Blender3D and similar platforms: That the goal of the software is to (merely) produce 'real-enough' effects and that the approaches for this goal must privilege 'efficiency' and 'flexibility.' Instead, I demonstrate how 'anticipation' and 'calibration' emerge as just a few of many kinds of crucial and messy attunement work that goes unaccounted. I conclude that if we ignore these lapses in accounting in sites which are meant to uphold flexibility and artistry, we risk reproducing divisions between what is "technical" and what is "creative" when we scale up and across other domains.

Panel Abstract:
Computer graphics has a long, multivalent, yet under-critiqued history of influencing technoscientific development, from its role in the rise of scientific computing to its use in creating the visions that fuel our sociotechnical imaginaries. This panel addresses this gap and contributes to scholarship that extends STS's interest in the social and cultural lives of technological artifacts (Jasanoff 1996, Pickering 1997, Lenoir 2000, Subramaniam 2014, Braun 2014). More specifically, this panel considers the nebulous two-way loops that run between (visual-)cultural production of technology and technological production of visual cultures. The four panelists—Joel McKim with his sociotechnical analysis of operational architectural renderings, Daniel Cardoso Llach with his media-archaeological examination of Computer-Aided Design systems, Akshita Sivakumar with her ethnographic interrogation of the 'work' of making simulations functional, and finally Ranjodh Singh Dhaliwal with his institutional history of computer-graphical infrastructures— all together investigate these very feedback loops by thinking about the objects and practices involved in computer graphics' mediation of scientific knowledge and cultural experience.

Scholars on this panel combine methods and concerns from STS, history of science, design studies, media studies, communication, and animation studies to decrypt some of the mysticism involved in our graphical heyday. Together, they examine the cultures birthing computational graphics and these graphical technologies' sociocultural impacts. In doing so, they explore how computational epistemologies not only get inherited, but also morph into new instantiations when these objects come in contact with the commitments of various fields and worldviews which acquire and subsequently reproduce them.




ARCHITECTURE'S ATMOSPHERES AS MEDIATION
In this course we will scrutinize the ordinariness of architecture's atmospheres. Architecture is typically thought in terms of stable, hard, and formal boundaries and masses. This course will instead consider seriously how architecture variously occupies, contains, and produces
atmospheres
. We will come in deliberate contact with atmospheric matter such as dust, aerosols, smog, miasma, smoke, haze, debris, and pollen via architecture and its inhabitants to construct a sense of
architecture's atmospheres
. With this as a frame we will enter historic and contemporary discussions surrounding air pollution, urban sensing technology, indoor and outdoor air quality, climate models, and mood, as matters of architectural concern. These concerns will be framed in terms of mediations— processes of materially altering interaction and communication between various entities. Yoked together,
architecture's atmospheres of mediation
will help us develop a vocabulary and set of methods to engage in atmospheric debates in ways that typically evade architectural representation or measure. This will lead us to pay closer attention to everyday social and cultural practices mediated by architecture, and their ideological bases. This course will gather scholarship from Architectural History and Theory, Science and Technology Studies (STS), and Communication & Media Studies.
MODERN ARCHITECTURES
Course taught in the architecture program at the
University of San Diego
in Fall'19, Fall '20.
Course Description:
//This course is not a survey//
To be modern is to confront the demands of the dynamism of reason, progress, growth, and movement. This course will examine the architecture that some of these forces shaped. In lieu of an exhaustive survey, this course will examine modern architecture's impetus and foils through key figures and projects during the period between the mid 19th century until right after the second world war. This history is always incomplete and conditional. There is no one modern; there is no one modernism. We will develop a plural sense of modern architecture by returning to very particular historical, social, technological, political, and material contexts.
As a meta exercise, this course will also address what it means to have a modernist pedagogical canon and why this exercise matters. We will discuss the stakes of approaching such a canon with both a receptive and critical posture.
For syllabus, please email.
DUST:
Communicating Indeterminacy
Making and Doing Exhibit : 4S Conference
| New Orleans, 4-7 Sep. 2019
Recieved the
Making and Doing
Award
.


Abstract: How and why do we model and control dust? In its various entanglements, dust, as both a scientific and non-scientific diffuse object is material and discursive but evades measure. It is variously governed through metaphor, myth, story and model. Through this exhibit, I present two multisensorial interventions: 1. A suite of scientific and non-scientific epistemic objects and the practices that they convene through which we have made sense of dust 2. A method of setting up research questions through the medium of a (scholarly) picture book. The book includes a narrative of imagined engagements with dust which bring together voices from interdisciplinary networks of actors to whom dust has come to matter. Working together, these two strands lay out the stakes of unequal knowledge regimes when grappling with indeterminacy via dust.


.
Photos from the installation at the Making and Doing session at 4S 2019.
Symposium
| April 11 & 12, 2019
I co-organized a 2 day graduate Science Studies mini-symposium sponsored by the Science Studies Program at UCSD. Dr.Lorraine Daston was invited to lead graduate workshops and deliver a university-wide lecture titled BIG CALCULATION AND THE HISTORY OF INTELLIGENCE. Graduate students from various UCs presented their work at the graduate workshops.

Participants:
Iris Clever, Cecelia Opatken-Ringdal, Ranjodh Singh Dhariwal, Anne O'Connor, Joshua McGuffie, Matthew Soleiman, Hailey Kwon, Sky Michael Johnston, Patrícia Martins Marcos, Akshita Sivakumar.

My presentation titled Being Particular About Particles: Diffuse Objects in Computer Graphics and Physical Science set up dust as a scientific and technical diffuse object which begins to problematize how the field of computer graphics and the physical sciences are calibrated on the solid.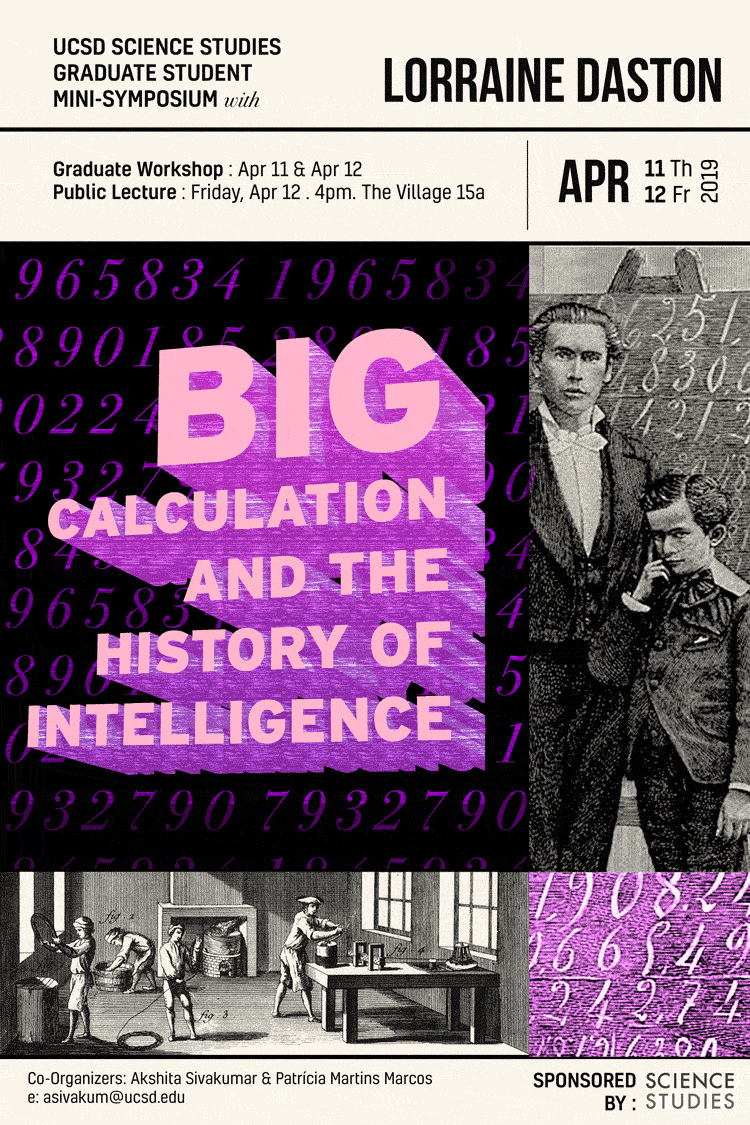 Poster design: Akshita Sivakumar
100+ Laskey competition winning entry
with Stephen Kim
2011